Regular price
$380.00 SGD
Regular price
Sale price
$380.00 SGD
Unit price
per
Sale
Sold out
Introducing our most popular and best-selling Wealth Attraction Amulet

💰💰💰 Take a look at some amazing Windfall Testimonials from our customers who have experienced tremendous improvements with their money luck and wealth! 💎https://www.elementmustika.com/2021/12/testimonials-of-hardcore-weath-takrut-5.html6

This Takrut consists of the 5 of our most powerful and sought-after Mustika Pearl that are legendary and widely known for attracting Immense Luck & Wealth Fetching.


King Centipede Pearl : Most Highest & Powerful Grad, most powerful Mystic Pearl for Money Luck, Wealth Enhancing & Gambling/Lottery Windfall Luck.
Cobra Pearl (Nagamani) : Believed to bestow it's owner with immense luck, wealth fetching, luck with business & sales, power of authority, spiritual awakening, protection & many more..
Geliga Semut Bara (Fire Ant Pearl) : Believed to bestow strong luck with trading, investments, sales, benefactor luck, attract unexpected windfall and it is also said that when you are in trouble, people will come and help you out of nowhere. Many more.
Geliga Pelanduk (Hornet Pearl) : Believed to bestow its wearer with strong protection against negative energies, black magic, evil eyes, "Xiao Ren" and believed to bestow great authority and command respect from people around
Geliga Kala Jengking (Scorpion Pearl) : Believed to bestow its wearer with immense wealth luck, strong charisma, authority, benefactors luck (Kui Ren), be admired and easily get help from people around, business/sales luck, and career progression
(BONUS) Bee Pearl (Geliga Pemaisuri Lebah) : Believed to greatly boost the wearer's Charm, Positive Aura, Opposite Sex Attraction & Interpersonal Relationships, Ability to be well-liked by everyone around, and when asking for help or favors, others find it hard to say no.


The Legendary Mustika Pearls are combined with the master's signature Mother of Money (Ibu Duit) Holy Wealth Attraction Note. This note features a sacred Mantra/Yantra known for attracting wealth and abundance from eight directions, personally written by our master. After being empowered and blessed for 41 days, it creates a Takrut with a total of 7 different charms. According to the master, the Mantras/Yantra on the note serve as a channel for the wearer's thoughts and intentions to connect to a higher level which is believed to aid in fulfilling wishes when one is dedicated and works towards them diligently.

Properties & Benefits :
STRONG SPECULATIVE LUCK, Gambling & Windfall
Attracts SIDE WEALTH and unexpected windfall
Wealth Attraction, Business & Career
Instincts / Strong Intuition
Enhance Positive Aura & Improve Appearance
Improves Relationship. Promotes loving kindness
Be able to gain sympathy from others
Attracts good opportunities & benefactors
Improves Mental clarity, sharp mind and alertness.
Helps with high risk investments
Strong Protection against danger, spirits and jinns.
Greatly boost your LUCK
Attracts wealth and fortune
Attracts side wealth and unexpected windfall
Brings good business and fame
Success with any risk taking investment
Be able to make right decisions
Promotes mental clarity and sharp mind
Enhance your body energy
Dispel negative energies and evil eyes
Protect from black magic and evil spirits

More Information on Mother of Money Charm

Azimat Ibu Duit Sukarno Berwafaq, also known as "Money of Money" is one of the most traditional and highly sought after wealth charm in the malay peninsular..

There are many variants of "ibu duit" , some are even made using normal currencies and then called "ibu duit" because its blessed, however the original ibu duit that people know about and refer to as very powerful are the currencies of SUKARNO era, which are no longer in production since long ago hence becoming very rare. Normal blessed note calling themself ibu duit is not "Ibu duit". As it is very rare and popular, there are many duplicated / printed versions commonly sold at a very cheap price, such note has no spiritual significance.

History and spiritual significance of Ibu Duit Sukarno

Ibu Duit Sukarno is an old unpublished Indonesian currency that bares the imagine of ex leader Soekarno. There are many versions of this currency however it did not became an official currency due to political issues. It is said that these notes are produced on TOP of a boat at a holy and auspicious location and time. Soekarno is known to be a believer and practitioner of Ilmu Ghoib (Occult). It is said that Sukarno money is believed to possess great magical and spiritual powers attributing to wealth and prosperity. It is said that there are certain holy verses of Solomon (Sulaiman) printed on the note in invisible / ultra violet ink as well as various holy inscription for attracting wealth from 8 directions "penjuru" to its owner. Rumours among the spiritual community also said that Soekarno possess lots of wealth, gold and treasures from the Bunian Realm that is still hidden until today and those who believed in him or owns any of his charm can aquire some of those wealth which will materialise in the owner's life through various different means.

Ibu Duit Sukarno is known to bend / fold by itself when holding onto the palm. The much it bends also depends on the user's aura and energy. If it bends all the way, it means that the user owner has luck and strong energy. If it bends a little, means there are some blockage in the person's aura which it can also help to unblock and clear negative energies to attract luck.
Here is another video demonstrated by our Guru of our Ibu Duit's metaphysical energy for attracting money

Azimat Ibu Duit is believed to bestow great magical and spiritual properties to its owner for attracting wealth, fortune and luck.

It is said to bless its owner with abundance, attract riches and help to bring in more money where its kept, in most cases the wallet since that is where money is kept. However, it may also be placed in a place where treasured belongings are kept as well. This will make sure that the owner will never go empty by having unnecessary expenditures and loss of income.
As we know, wealth is subjective. What may be big amount for some may not be big amount of others and vice versa. So depending on each individual life, one will always have enough within their means and capacity.
Ibu duit is also known to attract luck and bring prosperity to wherever its kept especially in a home or place of business as it makes sure that the people in it never lack financial comfort, generate more income in sales, attract more customers and dispel negative energies from competitors.
Ibu Duit brings abount abundance and financial stability. That is what its strongly believed for. It helps to create financial harmony at home and prevent lossess.
One of the most intriguing beliefs of ibu duit is helping its owner clear debt, recover debt owed by others as well as foresee hidden wealth and atract good fortune via unexpected windfall and opportunities.
This may also help to bring luck with risk taking, investment, trading, punting etc. Attract abundance, financial comfort and wealth stability.
We are the oldest and most established spiritual shop in Singapore. We have more than 1600 positive reviews on SG's No.1 Selling Platform Carousell and we are a Recommended Seller on it. Feel free to check out our Carousell Store.
https://www.carousell.sg/u/element.mustika/

Copyright © 2018 by Element Mustika™
Our company's brand, content and images are trademark protected under
Intellectual Property Office of Singapore (IPOS)
All rights reserved. No part of this product write-up may be reproduced, stored in a retrieval system or transmitted in any form or by any means, electronic, mechanical, photocopying or otherwise without the prior written permission of Element Mustika
Share
View full details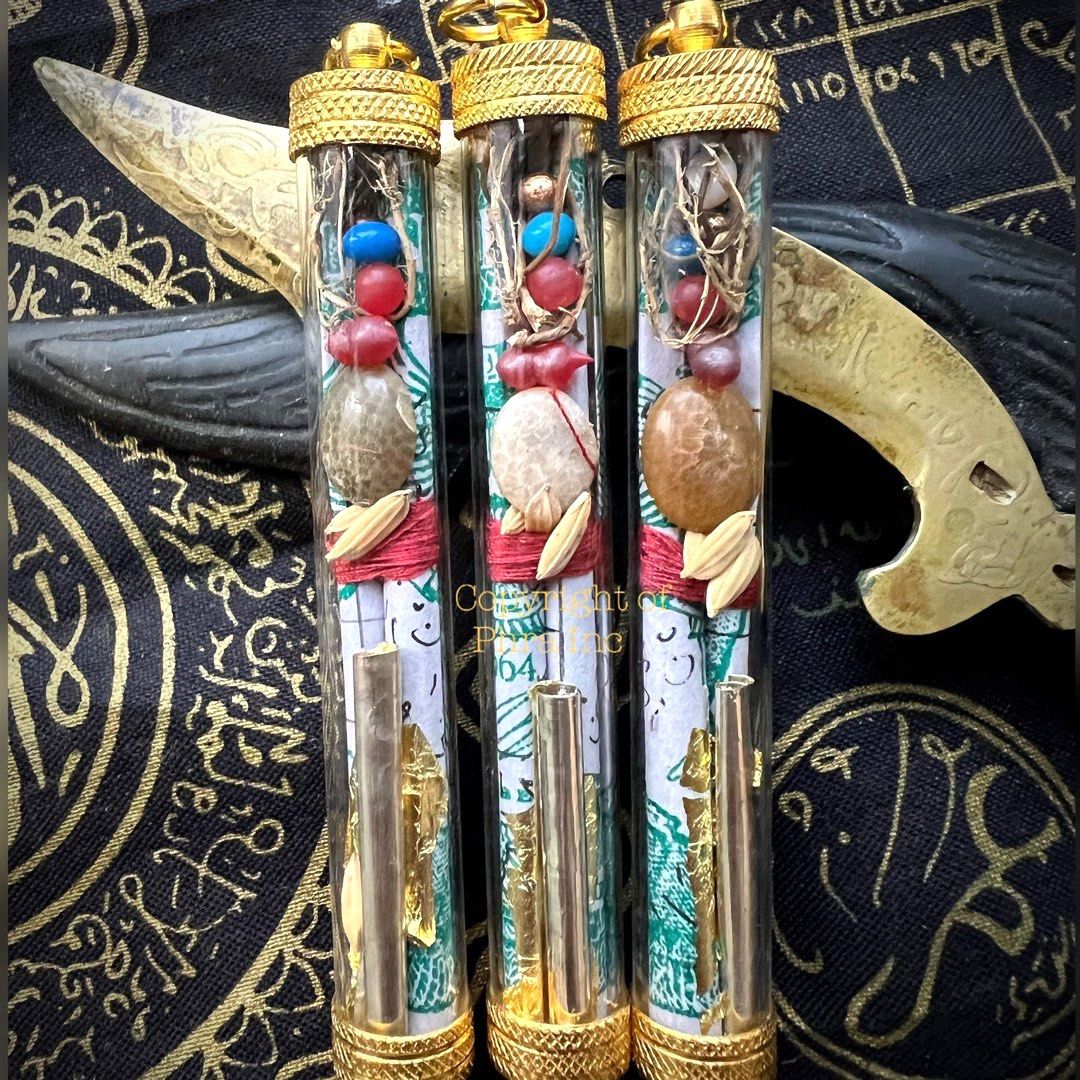 All I can say awsome!!!
I must admit, firstly I love the communication of the seller. He gives you the information you need and also advice on the items he sells. He also keeps check to see if your package has arrive to you. I definitely would highly recommend anyone who needs spiritual items and other items for various needs. Most of all the shipping is fast and I mean fast. Thanks Bro for the items and I already noticing some fast effects. 😊😊😊. I will be ordering more stuff here again.
Hardcore Wealth & Money Attraction 6 in 1 Takrut (Ibu Duit Wealth Note + 5 Legendary Mustika "Wu Tu"
A day after I received the Takrut, I went to Casino. I had a great time! I won a jackpot US$1,200. My investment back :)
Dealing with James is great! He gives advises. Looking forward to more blessings, windfalls money and good lucks in the near future! I recommend this Seller to others!